I saw a meme the other day about first-time home-buyers jumping the gun and wanting to write offers before they complete other important steps in the process.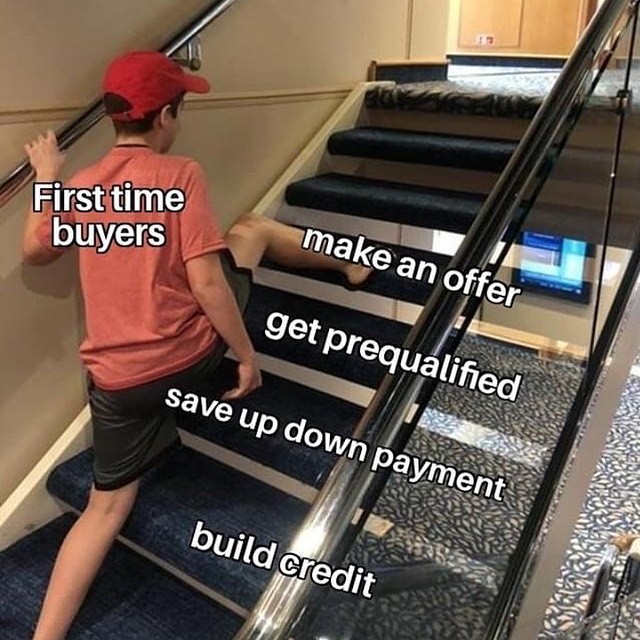 LOL – I mean I get it! Checking out houses is so much fun, and we get so excited to write that first offer in hopes of owning your first dream house! But in all seriousness, it's our goal in our Real Estate business to prepare our buyers so they can start off on the right foot. And that usually means starting on the bottom step – which is the buyer consultation! We sit down with you, review all the steps of the home-buying process, recommend some awesome lenders to assess your financial situation and figure out what a realistic mortgage payment looks like for you, and we get to know more of what you're looking for in your new home. So today we thought we'd share some information about one of the important topics we cover in our home-buyer consultation: the cost of purchasing a home. Because yes, you'll probably have to put some money down for a down-payment. You may have to pay for some repairs on your new home. And what about the use of that Realtor? Do you have to pay them too!?
Let's break it down item by item, so you can best prepare to have a smooth transaction without any "unhappy" surprises.
BUYER'S AGENT
Without a Buyer Agency Agreement, technically any agent that you speak with about a property is actually representing the SELLER – not you. Crazy, right!? We definitely recommend signing a contract with an agent so they can negotiate for you and look out for your best interests. The Buyer Agency agreement outlines the commission that will be paid to that agent that is representing you. One very cool thing about buying a home is that (most of the time), the SELLER is actually the one that pays that commission.
EARNEST MONEY
When you are ready to submit an offer, you will typically need to submit earnest money once the offer is accepted. This is a "good faith" deposit that ends up going toward your down payment at closing. The earnest money is a negotiable amount, but typically equals around 1% of the offer amount.
HOME INSPECTION
When buying a home, most of the time you'll want to include an inspection contingency. This allows you to hire a professional third party inspector to go through the entire house and identify any major defects. The buyer is usually responsible for paying for this inspection, and you can estimate to pay around $350-$500. The home inspection is a very important part of the home-buying process so you don't want to skimp or try to find the cheapest inspector out there. It's good to plan ahead so you can feel comfortable hiring the right inspector for you. There are also extra inspections that can be added on, so keep these in mind as well:
RADON TEST

Radon is an odorless, tasteless gas that naturally occurs from the ground. Radon causes concern for some buyers because studies have found that it can cause lung cancer. If you'd like to test for radon, you can expect to pay an extra $100-$200.
WELL/SEPTIC INSPECTION

If the property you are purchasing is on a well and septic system, you will probably want that inspected to ensure it is working properly. Most of the time, you'll want to get the septic system inspected, the well inspected, and a water test. You can expect to pay an additional $400-$500 for these extra tests and inspections.
Of course, there can be other inspections that need to be done (like chimney inspections or pool inspections), so keep that in mind depending on which house you are looking into.

LOAN APPLICATION/APPRAISAL
Every lender is different on how they structure payment for applying for your loan and the extra costs associated with the appraisal. Make sure your lender is discussing all of these extra costs with you as well. You can expect to pay around $350-$500 for your loan costs.
CLOSING COSTS
Closing costs are paid at closing (LOL), and they include miscellaneous fees associated with the bank and title company. This is also something you'll want to discuss with your lender, and it depends on the purchase price of your home. Typically, we tell our buyers to expect to pay around $2000-$3000 in closing costs. (Bonus tip: If you need help with cash to cover the closing costs, sometimes you can ask the seller to cover them).
DOWN PAYMENT
There are many options available to you for an amount you can put down on your loan. Your lender will sit down with you and discuss your best options. There are loan programs available that don't require any down-payment, but you can put down as much as you'd like.
BONUS – DEFERRED MAINTENANCE
The truth is – no home is perfect. 🙂 Houses require a little love sometimes – some more than others. Nothing is worse than moving into a home and a week later realizing the basement flooded and you need some cash for repairs (trust us, it happens). We want to prepare you as much as possible by knowing the age of the mechanicals and roof and appliances so you can plan for when these things need to be replaced, but sometimes unexpected "investments" do come up. We always recommend our buyers have some extra money saved up for these occasions as part of the joy of homeownership.
Hopefully this helps you as you prepare to purchase a home. And of course, if you have further questions on the process we'd be happy to answer them for you!