One thing I love about running our own family business is planning out our goals for the year, our business plan, our schedule, and keeping everything organized. Call me a nerd, but it really keeps me motivated and excited when I have a clear path and vision for our business (and if I can make a spreadsheet about it, it's the icing on the cake – HA!).
When I found out I was pregnant, it was a very tough time of transition for me. What would this mean for our business that I'm so excited about? What would it mean for my goals and my schedule? Right about then, I was introduced to the idea of "Family Teams" from Jefferson Bethke and Jeremy Pryor (be sure to check out Family Teams on social media!!). Family Teams is a faith-based concept of building a multi-generational family team on mission. It has helped me realize –
If I have a set business plan and clear mission for my business – why can't I have the exact same thing for my family?
In October, we had the pleasure of heading to Cincinnati to Family Teams Weekend to get started on clarifying our family mission and start forming our little family as a TEAM – with coaches, players, practices, and games/performances.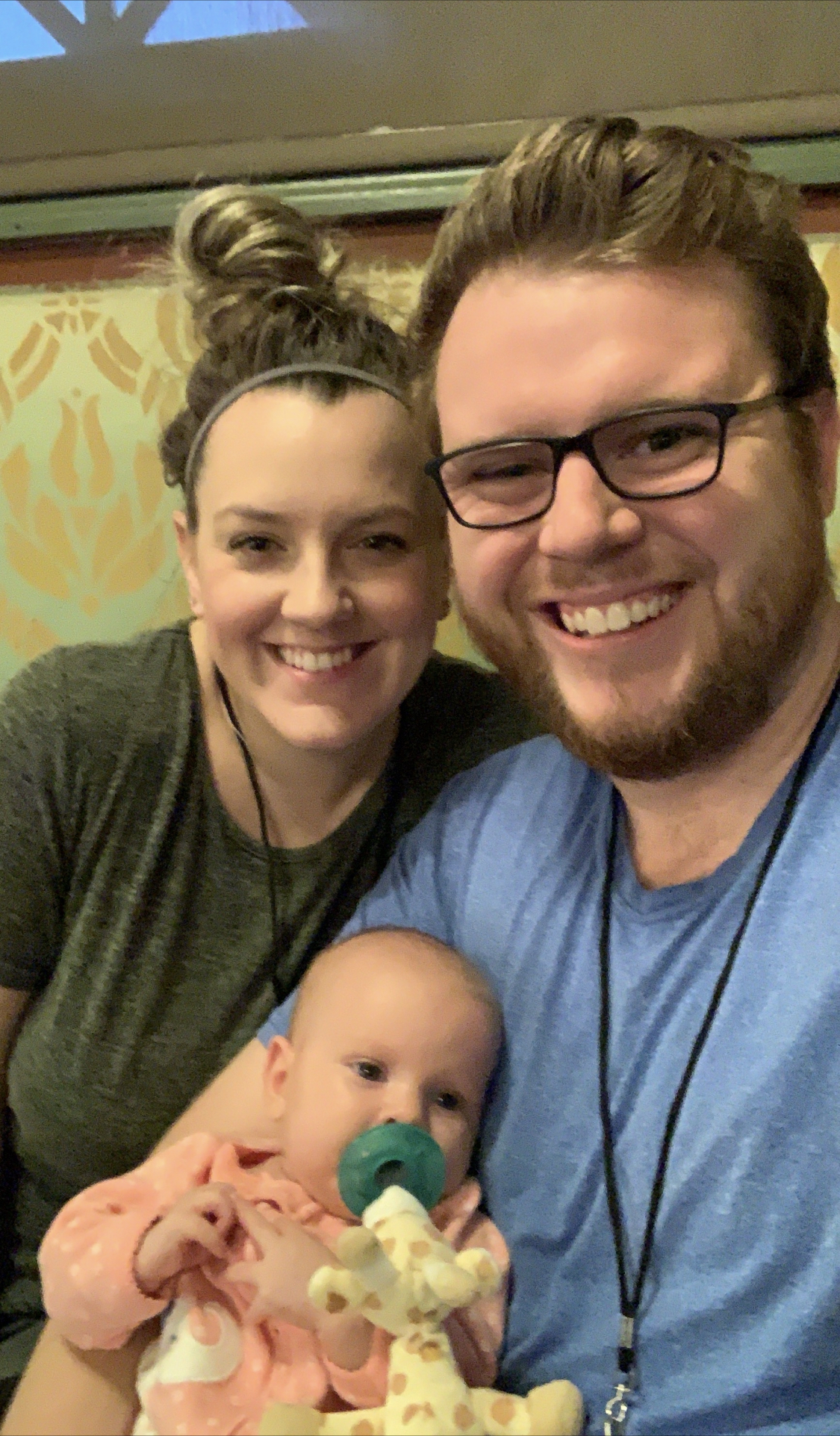 Here are our top take-aways from the weekend:
Create a vision, mission, and pillars for your family.
In our real estate business plan, we have a vision for where we want to go, a mission for why we do what we do, and 3 different pillars that help us focus on our daily activities to grow our business. This simplicity and clarity has helped us immensely in the business world, so we are working to implement this into our family team as well.
Our family vision will help us see long-term – what kind of values are we passing down to future generations?
Our family mission will help us clarify our purpose and help keep us intentional.
Our family pillars will help clarify what type of family we want to be and what we want to focus on and grow in – things like communication, closeness, faith, and humor.
Start with some keywords for your family.
Creating a mission statement can be a little daunting at first (at least it was for us). An exercise we did was to write down some keywords that define what our family already is. We did this activity separately, then discussed what we wrote and tried to find similarities. These words helped us form our family mission statement. Some words that came to mind for us were:
Laughter
Fun
Intentionality
Community
Generosity
Closeness
Rhythmic Living
For us (and probably everyone) – our work can easily permeate into every area of our lives, and our to-do lists can take over our precious self-care or family time. One thing that we spent a lot of time discussing was committing to a full day off during the week. Previously we had tried to do this on Sundays, but we are almost always working on Sundays and it never worked out for us. Instead, we decided to take a full day off on Wednesdays. This day is focused on self-care, REST, and enjoying quality and intentional time with our family. We have been implementing just this one thing for a few weeks now and it has already been life-changing (more on our day of rest in a future blog post!).
Have fun with it.
Once we established our family mission and vision, we wanted to create some fun and excitement around it. For us, we wanted a family mascot. So we headed off to Build-A-Bear and made little Fuzzy Figiel – stuffed with three hearts for each of us. 🙂 It's so cute how they put together the bear and have everyone make little wishes – it was a nerdy and fun activity for us to do, even though Phoebe slept through the whole thing in her carseat.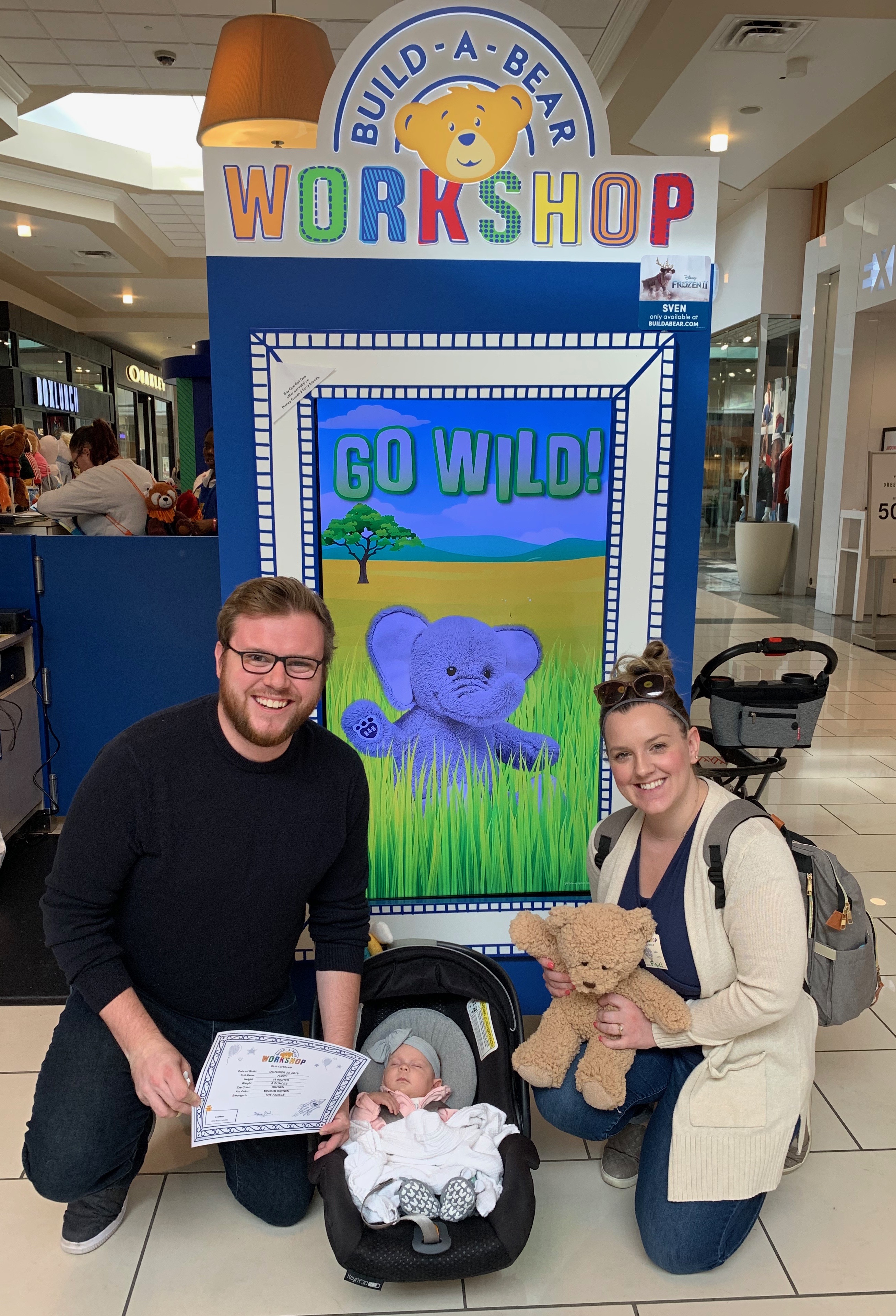 Fuzzy will be with us to help us remember our mission, and to help us stay on track. He will come with us on family outings to help us all remember to be kind to others and have fun doing it. He'll sleep in Phoebe's room to help her remember not to be scared of the dark because we have faith in God. He will come with us on family road trips to help us remember to be intentional with our time. He will sit with us at family dinners to remind us to mind our manners (LOL), and remind us why what we're doing is important.
There were many other take-aways from an awesome weekend, and many more things we are working on implementing. We are so excited to be building a family team on mission and being intentional instead of just reactionary. Of course we are far from perfect, but we're making progress!